For 10 years the Brady family lived on Denman Island, a tiny island community off the east coast of Vancouver Island. With a total population of under 1,000 residents, the local elementary school held about 80 students from kindergarten to grade 6. Each grade 6 class had about 10 or 12 students. After grade 6, island students bused across on the ferry into the town of Courtenay, B.C. In a sense, these young people "graduated" from their little country island school, and now travelled into the big city school. When the island built a new school, Dennis Brady started a project to have each grade 6 class make a stained-glass window for their school. As much as anything else, this was part of the graduation ceremony for these young people. Each year, the class held an election to select the idea for a design and, under DeBrady supervision, completed the window. Each finished window is now on proud display in the Denman Island Elementary School.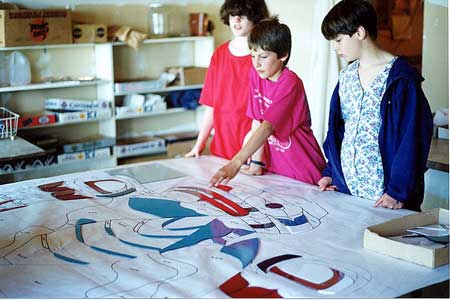 Group assembling - The students setting out glass pieces for the "United Nations" window.
This was the only year the class did not design the project. Instead they elected to make a stained-glass window of the design that had been selected by the United Nations to commemorate the "Year of the Child" conference held at the University of Victoria.